Vision & Mission
Vision: An empowered equitable society established; which is controlled by vulnerable community and the farming community in SVDS operational area.
Mission: Development of a social system in the adopted villages of the Sarada river basin that is controlled by farming, tribal and other weaker communities of the society, which on one hand, fights against the local exploitation and on the other alleviates poverty via organizing the poor, building their confidence, bringing out their leadership qualities and creating awareness in own capacities, the power of unity, and resultant social, financial, political and community empowerment.
OUR WORK
Susag Millets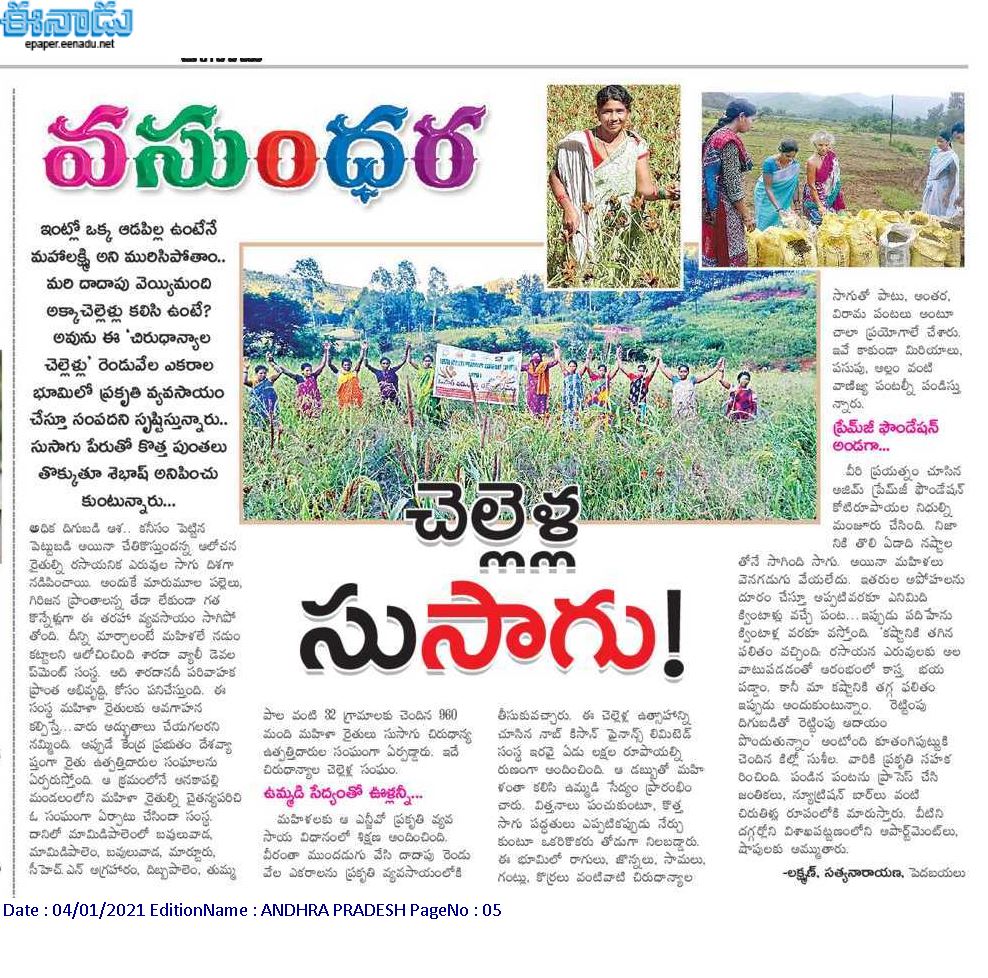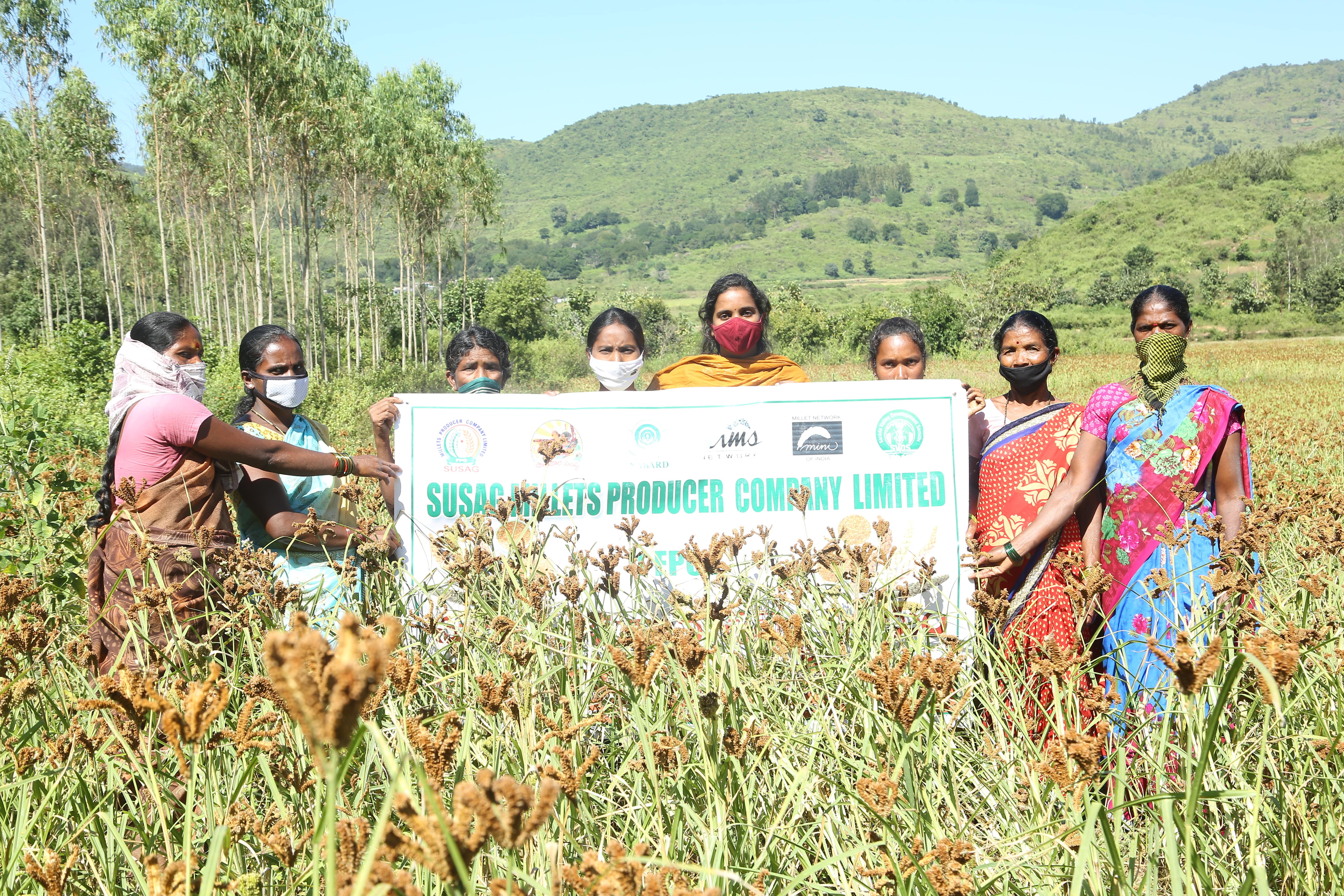 Susag Millets Producer Company Limited is the women steered, high income generating FPO, familiarly known as 'Millet Sisters'. The SUSAG Millets FPC has been formed in 2015 by Millet sisters with the assistance of NABARD.. This was backed by Sarada Valley Development Samithi. The core vision of SVDS is Multifaced Women empowerment and lively hood enhancement for providing food ,health, and nutrition security. The basement of the FPO has been designed in such a way that the capacity building, awareness, natural organic agricultural practices, processing activities are common from CEO level to the member level. Knowledge sharing, field level exposures, onsite meetings at mass levels etc have enabled each member of the FPO to realize their ownership, roles & responsibilities. The administration of the FPO has been decentralized up to member level enabled the FPO to procure the entire produce at each member level up to last grain over and the above their family self-consumption. A well coordination among Procurement, Processing and Marketing committee, Financial Mobilization committee and Social Audit committees has developed to realize the marketing potential, procurement target for FPO and thereby developing business strategies for purchase/sale of produce in a balanced manner the turnover started to increase instantaneously irrespective of marketing trend. The SVDS has succeeded in building up of strong team work, layering of various capacity building works, timely pumping of convergence schemes with relevant departments, transparent administration etc.
Susag Millets FPC has been working in Pedabayalu Mandal of the Paderu Division of the Visakhapatnam . The work has been the 'Revival of Millets' and strengthening the 'Traditional Mixed Cropping System' through natural farming, increasing local consumption and profitably marketing the surplus. Susag Millets FPC has been associated with Rythu Sadhikara Samastha since 2018 to work under APCNF program on promotion of natural farming practices and technical assistance.
The FPO has been tagged with number of interventions for skill development, upscaling, marketing and generating income over the years since formation in 2015. The intervention of ITDA, Wasan the Memorandum of understand with ATMA, RYSS has helped the FPO for getting the benefits of technology transfer, development & utilization of local spring waters, training programs, technical expertise etc, developed the produce yield size, marketing size, membership size of the FPO.
In 2018, Susag Millets FPC availed working capital of Rs 27.00 lakhs from NABKISAN Finance Limited which was repaid on time. Again, in 2019, NABKISAN Finance Limited granted Rs 69.00 lakhs for working capital cum term loan. On the performance of our Susag Millets FPC seeking, NABKISAN sanctioned Rs 6.00 lakhs grant and SFAC provided equity grant of Rs 4.80 lakhs.
The business size of the FPO has increased in such a way that the FPO has created dedicated staff with special duties for taking care of book keeping (MIS), Marketing wing, Stock management, Food processing team etc.
Now the millet sisters are producing millets and pulses to the tune of around 30 tons to 40 tons, with a business turnover of Rs. around 45 lakh per annum. The minimum net annual income for the FPO is around Rs. 3 lakh to Rs.4 lakh.
The Susag FPO has been visited by many organizations, research scholars, Department heads, administrations, students, financial institutions. Today Susag Millet sisters FPO has been turned into a knowledge hub for creating eco-friendly livelihood, team work, concentrated convergent schemes, corporate business structure reflecting the necessary qualities of an ideal business hub cum comfortable happy life for the FPO members.
The way forward:
APPI (Azim Premji Philanthropic Initiative) has studied the Eco-friendly livelihood practices, corporate business strategies, replicable convergence models and planning to develop a model called 'Eco Pedabayalu' under their CSR activity for promotion of organic farming which could be another milestone in the success history of Susag millet sisters FPO. Our Millet sisters are very particular to strengthen the Immunity Centric Supply Chain in future to serve the healthy and nutritious food .
SVDS Target Community
Millet Sisters
Women and children community
Farmer community
Unorganized labour
Sex workers- FSW & MSM
Youth
Objectives
To enhance sustainable livelihoods of the project stakeholders.
To establish 'Immunity Centric Supply Chain' in the market.
To encourage millets and mixed crop cultivation to get food, fodder, nutrition and health security
To develop wasteland as productive farms through participation of vulnerable groups thus improving their living standards
To conserve the ecology through sustainable intensive agriculture and use of non-conventional energy resources and to conserve natural resources by adopting sustainable agricultural practices.
To develop leadership qualities among the local youth.
To develop leadership qualities among the local youth.
To develop organizational power among the tribal, dalit and women and farmers by bringing them together, inculcating thrift habit and facilitating their participation in various government programmes and organizing them to get their rights.
To Eliminate gender bias in building modern society by creating social, economic and political awareness among women
To promote healthy and hygiene habits among the target groups
To improve local environment, medical, educational and sanitation facilities.
To facilitate the community to manage the drinking water resources in sustainable way
To promote hygiene behaviors among the community and school children
To strive for elimination of child labour.
To provide advisory, welfare and do other services to facilitate social, economic and political empowerment of women and weaker, tribal and farming sections of the society.
To create awareness among people for protecting the Sarada river basin area from pollution
Major tasks undertaken by SVDS
Promotion of Farmer Producer Organizations
Andhra Pradesh Community Based Tank Management
Community Organization
Sustainable Agriculture
Campaign Against Genetically Modified Food
Livelihood Enhancement
Environment Education
Food Sovereignty
Dalit And Tribal Empowerment
Wasteland Development
Water, Sanitation And Hygiene
Self-Governance
Thrift And Credit
Disaster Management
Human Resource Development
Child Labour Rehabilitation
STI/HIV Management
Urban Slum Poverty Alleviation
Strategy
To develop organizational power among the farming community of Tribal, Dalit and women by bringing them together as CBOs, and facilitating their participation in various government programmes and organizing them to get their rights and enhance their livelihood and conserve their nature.